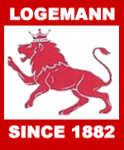 Logemann Brothers
Disclaimer, RecyclingBalers.com is in no way sponsored, endorsed or administered by, or otherwise associated with any of the following manufacturers or their respective products. Any reference to or information regarding any of the manufacturers (and/or their respective products) below, or elsewhere on this website is purely informational pu...
See more
All Equipment of Logemann Brothers
(Showing 2 Equipment)
Sort By
Used Logemann 245AT1 Auto Tie Two-Ram Baler
$53,900.00
This Logemann 245AT1 two-ram baler is listed in AS-IS condition and available immediately. We also offer this baler in Repair-Running condition and Fully Reconditioned (call for pricing and...
Condition
As Is (Contact Dealer)
Motor Horsepower
31-50 HP
Feed Opening Length
61" – 72"
Feed Opening Width
61" and Above
Dealer Internal Equipment ID
3218
Used Logemann Brothers 345 T Two Ram Auto Tie Baler
$15,000.00
Handyman special - get this powerfully-built two-ram baler for $15,000 as-is without wire tier. Available now in Texas.Ask us about reconditioning service specials with the purchase of a baler.Operati...
Condition
As Is (Contact Dealer)
Feed Opening Length
85" and Above
Feed Opening Width
43" – 60"
Dealer Internal Equipment ID
20113
Single or Dual Cylinders (Bore Sizes)
12
About Logemann Brothers
Disclaimer, RecyclingBalers.com is in no way sponsored, endorsed or administered by, or otherwise associated with any of the following manufacturers or their respective products. Any reference to or information regarding any of the manufacturers (and/or their respective products) below, or elsewhere on this website is purely informational purposes to allow users to compare certain manufacturers' products
Note to Manufacturers: We strive to ensure that all information available on this website is accurate with respect to any manufacturers' information and product descriptions. If you would like us to correct any errors in the way we've displayed your company name, logo, or product descriptions, please feel free to alert us by emailing us at sales@recyclingbalers.com